Wildermyth
Mac and Linux Support! v0.4 +44 Eef Dram
---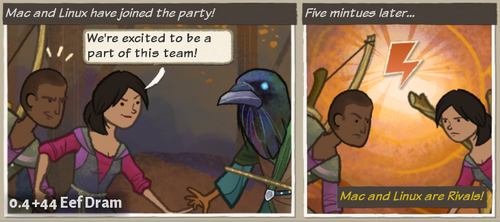 We're super happy to announce support for Mac an Linux! Going forward, windows, mac and linux builds will be released together every patch.

Also, some other cool stuff. Here are the patch notes:

0.4 +44 Eef Dram
Mac and Linux Support!!
New Story: Strider
New Story: Sneak Thief
New Story: Tent Side
New Story: Field of Statuary
email input can accept numbers now
Added icons to health bars to show relationships, including which buffs are active
Changed ethererburn and gorgon ranged attack to magic damage
Fix Unstilled Heart fight
Fix/tweak/revise a number of stories
Fixed bugs with relationship changes
Fixed some attack animation bugs
Fixed bug with moving onto/near hidden enemies
Fixed bug where enemies would sometimes not attack if there was a hidden hunter nearby
Fixed bug where wrong abilities were showing up in Legacy Recruit
Fixed cases where some abilities would announce "0 damage"
Thrixl interfusion gets its own color so it's not as confusing
Improved feedback for warding and temp HP
Blocked damage indicator is now more correct
Added particles to flanking attacks
Added sfx and vfx when scenery is damaged/destroyed
Improved Calamity screen performance
Added a "took cover" notification when cover causes an attack to miss.
Fixed several bugs with multi-tile enemies
Cleaned up where abilities show up in the character sheet to make more sense
Updating underlying libgdx version to 1.9.9
Updated FMOD to 1.10.12
Greatly improved tools and cheats for testing stories
Foundational work for improved story editing tools
Files
Version 0.4+44 Eef Dram
Apr 15, 2019
Version 0.4+44 Eef Dram
Apr 15, 2019
Version 0.4+44 Eef Dram
Apr 15, 2019
Comments
Log in with itch.io to leave a comment.
I went to check for updates but I couldn't get this one
That's confusing, we certainly didn't intend to revoke anyone's access, if you've purchased the game you should be able to download any of the builds as far as I know, what are you trying?