Wildermyth
Welcome to the Yondering Lands
---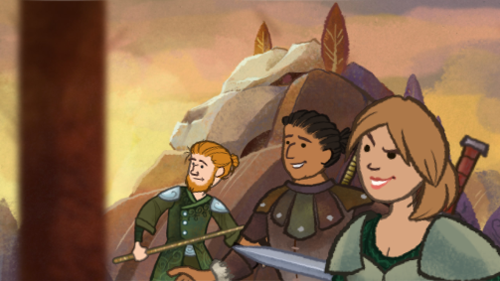 This is real
This game has been in development for 5 years. For most of that time, the core team was three people: a programmer, an artist, and a writer. We started with a pretty simple idea, we thought, which was to have tight tactical combat in a fantasy setting, with some character development for your heroes. Well. That core idea grew into a monstrous amount of work, and that's our fault. We brought on some more team members. We did the work. It's not done yet, but it's done enough to start sharing!

The game, right now
This game is pretty fun! It has all the major parts of a game. It has great art. It teaches you how to play, it has solid combat, interesting overland strategy, compelling stories, and tough choices. Your heroes grow old, transform, retire, and go into your legacy to be used again. There are five unique monster groups to test your skills.

Going forward
We're not done here. Beta to us means that the game is solid enough to start sharing, but, this is a game that we built to be extremely expandable. It can hold a very large amount of content, and we plan to work on it for as long as it makes sense to. Right now, we have a slew of stories still in the pipeline, waiting to be integrated and added to the game. After that, we plan to keep adding features and content. If we're successful, we'll just keep going.
Your Game
Let us know what you want from Wildermyth. It's your game. We built it for you.

Files
Version 0.3+17 Tru Beardarke
Feb 28, 2019