Wildermyth
Patch Notes: 0.38+282 Codander Doomwage
---
Drauven Rework, new buttons, legacy browser, and more!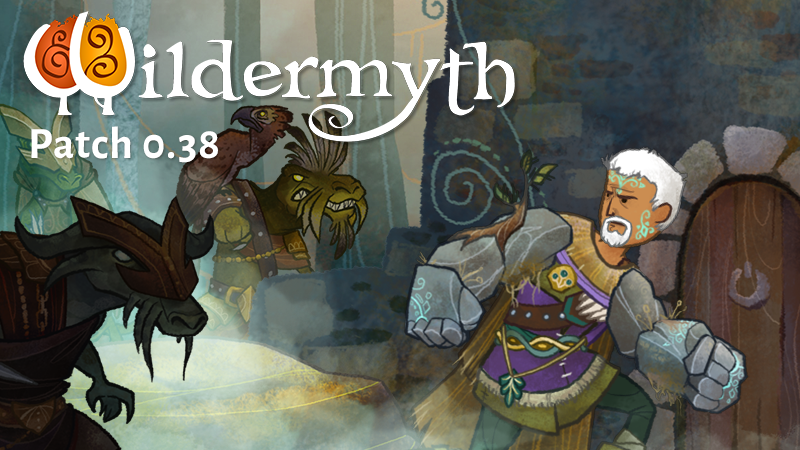 We're delivering 3 Roadmap items in this patch!
Drauven have been reworked with a bunch of new and terrible (for the heroes) abilities. The centerpiece of this is Drauven Blood, which now grants regeneration to all Drauven (but not e.g. terror birds). Because they can regenerate, Drauven want to slow fights down, and so many of their new abilities are about thwarting the heroes' ability to burst them. We think this will make a big difference in how they feel to fight.
We're also delivering a new Legacy Browser environment with some filtering features. We'll have some new music in here in a future patch but it's already a much more pleasant place to find your favorites.
We're also removing the experimental tag for multiplayer along with some improvements to the player experience, especially when playing with mods. The "Always on mods" concept has been simplified so that now they can be turned on and off per game.
We're getting pretty close to announcing a launch date, which is extremely exciting for us as a team. It's been a journey and a half! As part of that, we've updated the roadmap to better reflect exactly what we expect to ship with 1.0, and what will likely slip to a 1.1 or 1.2 update. You can find our roadmap here.
As we run up to launch our regular patch schedule will most likely be interrupted, but we'll of course continue to communicate and address bugs as needed.
0.38+282 Codander Doomwage
Drauven Ability Rework!
* Drauven Blood: All Drauven regenerate now
* Dart: Cower, hide after taking damage
* Dart: Prepared Shot, shoot enemies moving through an area
* Stump: (Calamity) Net Throw, hobble enemies with a net
* Haunt: Specterstep, ignore the first attack made
* Haunt: Quickblade, can move after attacking
* Stormthroat: Harass, send a bird to harass the enemy
* Stormthroat: Battleyell, command an ally to attack
* Deevens can intefuse with scenery
* Terrorbird: Shriek, reduce enemy potency in a cone
* Gorelord: Blooded Ferocity, take half damage for a turn
* Pilot: Wingbeat, deal damage and knockback every turn
* Pilot: Flight, fly to a tile and bring an ally along
* Raid Knight: Charge, rush into the fray
* Balestar: Sneer, extra movement at the end of its turn
Adjusted Drauven Calamities
New Tidings
Added an autosave at the very beginning of the campaign
Changed and simplified how mods are configured
Multiplayer warning for mismatched mods
Removed "Experimental" tag for multiplayer
Abilites withs status effects now explain them in tooltip
New cursor image
New button styles
Ability buttons now show element type
All theme range attacks now work with ambush
All theme range attacks now work with archery
Throughshot now works with certain ranged theme attacks
Increase damage of jumpjolt, chain lightning and witherbolt
Treecall is now a swift action
Blazing Sword and Arrow now have distance relative to the fire
Retirement Age stat shows if the hero will retire this chapter
Unstoppable aspect no longer protects against reaction strikes
Can now search by name in the legacy select dialogue
New Legacy browser map
Legacy can now show heroes of different tiers
Can now modify hero hooks in the history tab
New in-game menu background
Elsee Arcwright now has hooks
Additional Mods section explains Always-On mods
Fix a bug where job time estimates were innaccurate
Fix a bug where health loss from mortal choices didn't stack
Fix a bug where archery triggered while the hero was in stasis
Fix a bug where clicking on the capstone threat gave bad feedback
Fix a softlock where some battles were unplayable
Fix a bug where forge lost aspects when steal fire was used
Fix a multiplayer crash when crafting and the host disconnects
Fix a softlock with archery and mortal choices
Fix a bug with customized hooks in multiplayer
Fix a bug with Answer to Austerity event
Fix a bug where changing hero type didn't adjust the background
Fix a bug with shouldersledge targeting
Fix a bug where disabled mods would reactivate
Fix a bug where enemies show up as invisible in old saves
Fix a crash on Linux with some How to Play pages.
Fix a bug where a quest was firing when that enemy was disabled
Fix a bug with vinewrench and multi-tile monsters
Fix a bug where theGoneOx retirement bonus was permanent
Fix some typos
Files
Version 0.38+282 Codander Doomwage
May 13, 2021
Version 0.38+282 Codander Doomwage
May 13, 2021
Version 0.38+282 Codander Doomwage
May 13, 2021