Wildermyth
Patch Notes: 0.35+259 Daghen Dimmerhelm
---
0.35 Daghen Dimmerhelm
More Incursion Work, Remembered Places, More Events!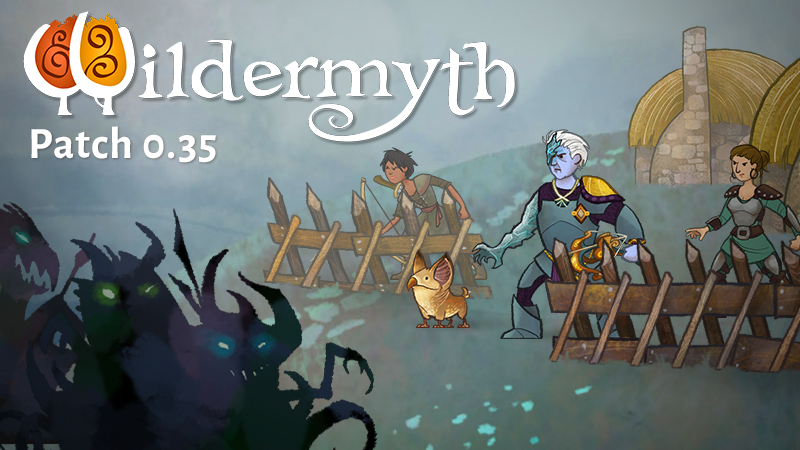 This time we're continuing to iterate on incursions and how they fit in the overall overland gameplay. We felt they were still too tedious, and were not quite doing what we wanted, so we made some more changes. Notably, the frequency of incursions should go way down, particularly at high difficulties in later chapter. Incursions will start with a larger "size," but fights have been rebalanced to be about the same as before in terms of difficulty. This makes incursions more of a threat on the overland, but a less frequent threat. We've got some other tweaks in there as well. Let us know how it plays!
"Remembered Places" is a fun little thing we're doing now. After some memorable encounters, a little map feature will show on the world map, so you can remember what happened there. In addition, we have some meaty new events this time, and a handful of bugfixes and other tweaks.
We aim to ship every two to three weeks and our roadmap is here.

0.35+259 Daghen Dimmerhelm

New Event: Out of the Rain
New Event: The Starseed Tree
New Event: The Stormwell
New Theme: Storm
More Incursion Changes!
  * Incursions now start larger
  * Incursions now have a chance to split into two
  * Incursion fight strength doesn't scale as much with size
  * Incursions always target towns
  * Incursion path is shown from the start
  * Infestation effect on incursion rate significantly reduced
  * Improved Incursion Tooltip
  * Grant Legacy Points if an incursion burns out on defenses
  * Defenses have a chance to withstand incursion attacks
New Incursion Defense maps have been added
  * Garrison
  * Farmwall
  * Tunnel Road
  * Pincer Position
New Custom Site maps have been added
  * Library
  * Henge
  * Primal Altar
New Ulstryx Boss music
Top four main menu buttons have been moved under a Play button
Interfuse and Silkstep are now more consistently on the same key
Animated Promotion Dialogue has been added
Remembered Places now appear on sites after certain events occur
Patch Notes now show on the main menu when a patch is released
Game can check if it's out of date and prompt an update
Added a theme choice to Hunting Ambrosia
Warrior Armor stat changes to make the two types more balanced
Ability description updates
Fix a bug where enemies get stuck while trying to reach doors
Fix a bug where capstone assault missions won't autofill
Fix a bug where riposte could proc against ranged attacks
Fix a bug in Unpaid Bill text
Tools: Added an option to disable multi-paste functionality
Tools: Map features can now be changed with events
Tools: Able to forbid specific scenery spawning in map editor
Files
Version 0.35+259 Daghen Dimmerhelm
Mar 17, 2021
Version 0.35+259 Daghen Dimmerhelm
Mar 17, 2021
Version 0.35+259 Daghen Dimmerhelm
Mar 17, 2021