Wildermyth
Patch Notes: 0.33+248 Gwynne Flutebody
---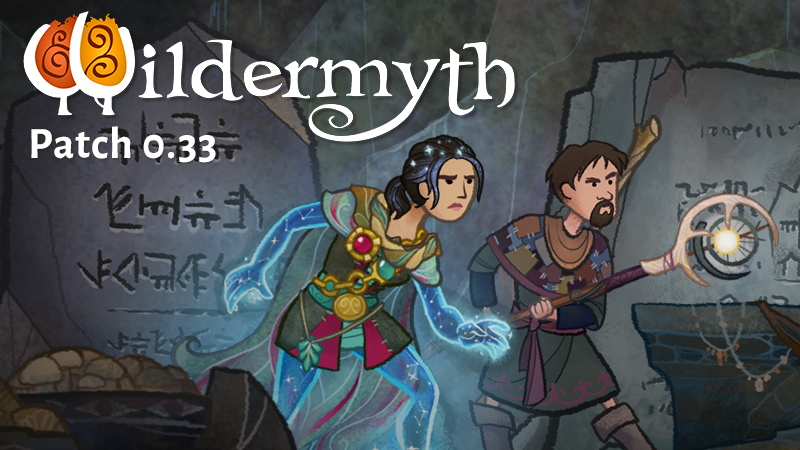 Stories Carved in Stone
There's a new way to play Wildermyth. You can now select "Carved in Stone" when starting a new game. This is similar to "ironman" or "commitment mode" in other games - there's only one save file, and no option to load. Quit is replaced by "Save and Quit." It's not on by default, but it's there for those who want it!
We've also added a way to view your unlocked legacy weapons from the legacy browser and the in-game menu, and have made some balance changes to abilities.
On the Tools front, we've done a lot of work to make the comic editor more accessible. We've simplified and improved the event setup process, removed irrelevant fields from the editor, and improved feedback. We also tried to make a more comprehensive guide on getting started with the comic editor tools, which can be found here. We'd love to hear from anyone who wants to make comics, where are your stumbling blocks?
In the background, we're also working on some other roadmap items, achievements and controller support specifically. Neither of these is ready yet. Achievements might not be ready until we get close to launch.
Now that the holidays are over, we will aim to get back to our regular cadence, and ship a patch every 2-3 weeks. Our roadmap is here. As you can see we're getting to the final segment of stuff! We're really excited about reaching 1.0.
0.33+245 Gwynne Flutebody
New Event: A Tight Fit
New Victory: Wardrobes
New Victory: Fading Lights
Added "Carved in Stone" mode (Ironman)
Achievements button in menu to review elemental weapon unlocks
Added icons for elemental and artifact weapons
Added a checkbox to forbid heroes from having children
Spell Damage is now a real stat
Moved advanced shackles from elementalist to humanist
Raider now damages enemies adjacent to destroyed scenery
Prepared shot explains that it deals extra damage
Banners for bridges/passes now show up at location
Now possible to build multiple bridges/passes per tile at once
Adjusted Crow Peck to blind on stunt, reduced stunt damage
Some maps now indicate that more monsters are coming
Spirits will no longer die in fire
Getting elemental artifacts no longer unlocks elemental weapons
Changed color of interfused fire, enemy fire
Fixed bug with offhands for legacy recruits with 2H weapons
Improved performance of legacy saving
Clarified some objectives
Interfuse feedback no longer turns mystic to face it
Fix remove dominate was not present on some difficulties
Fix a bug where inspiration bonuses could become permanent!!
Fix a bug where opportunities didn't correctly resolve
Fix a bug where spirits would prevent some monster spawns
Fix hero selection in labors screen
Fix a bug with upgrading some artifacts Fix a bug with fire and lover's vengeance
Fix a bug with Spiritblade and Heroism
Fix a bug with Bloodrage and standing in fire
Fix some typos
Tools: added helpful links to editor landing page
Tools: Comic Editor ease of use improvements
* new event button in comic editor, improved dialog
* replaced "new story role dialog" with complex target previews
* simplified targets to only show relevant stuff
* event validation now shows in comic view
* can enable or disable events in comic view
Tools: New Outcome dialog shows suggestions based on context
Dev Mode: preview controller support - not finished!
Files
Version 0.33+248 Gwynne Flutebody
Jan 28, 2021
Version 0.33+248 Gwynne Flutebody
Jan 28, 2021
Version 0.33+248 Gwynne Flutebody
Jan 28, 2021