Wildermyth
Patch Notes: 0.26+161 Thollop
---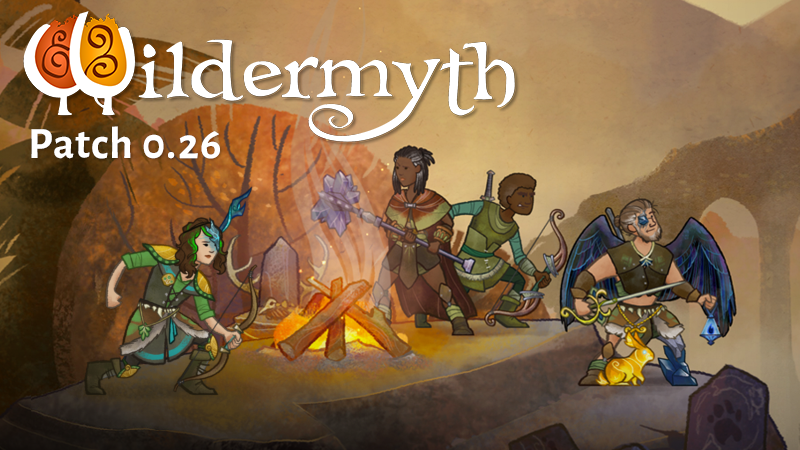 Legacy heroes now show up on the main menu instead of the same boring crew. We've also got several more improvements to our graphics behavior, fixing some bugs with Alt-Tab and Mouse behavior, and implementing a more intentional borderless windowed mode.

If you check our roadmap you can see that we've nearly, but not quite, completed our first two milestones. We're still working hard on that stuff and we hope to have more content out soon.
We aim to ship a patch every 2-3 weeks, and our roadmap is here.

0.26 Thollop
New Event: Pebbles and Prayers
Main menu now shows legacy heroes!
Can now name save games to keep track of them
Updated effect of elmsoul belt
Added a splinterskin effect for fully transformed elmsoul
Move animation speed can now be adjusted separately for enemies
Tweaked difficulty on Monarchs intro mission (easier now)
Added a couple combat modifier images
Updated libgdx to 1.9.11
Graphics: Fixed a mouse jitter issue Graphics: Added a specific borderless windowed mode
Graphics: Fix Alt+Tab on some machines: now minimizes if in fullscreen
Graphics: Improvements to v-sync behavior
Graphics: Added 144Hz frame limit option
Graphics: Added an option to see fps in the bottom left
Overland music won't play before first event
Frog tongue no longer prevents turn end
Fix some typos
Fix a beard image bug
Fix a bug when a level 0 hero retiring would cause a hang
Fixed visual bug on very short comic dialog boxes
Fixed bug where stasis still allowed AOE damage
Fixed bug where keybind window would scroll to top on each bind
Fixed bug where untouchable/foxflight didn't block flanking attacks
Tools: can turn off auto-tag-close in comic editor
Tools: fix a couple validation and highlighting bugs
Tools: fixed/improved some cheats
Tools: fixed a typo in StepC_Visibility
Tools: entity ids now shown in dev mode
Tools: added tooltips for a lot of comic editor stuff
Translate: added Japanese fonts and language option for community
Files
Version 0.26+161 Thollop
Aug 13, 2020
Version 0.26+161 Thollop
Aug 13, 2020
Version 0.26+161 Thollop
Aug 13, 2020