Wildermyth
Patch Notes: 0.24+150 Jia Trackvell
---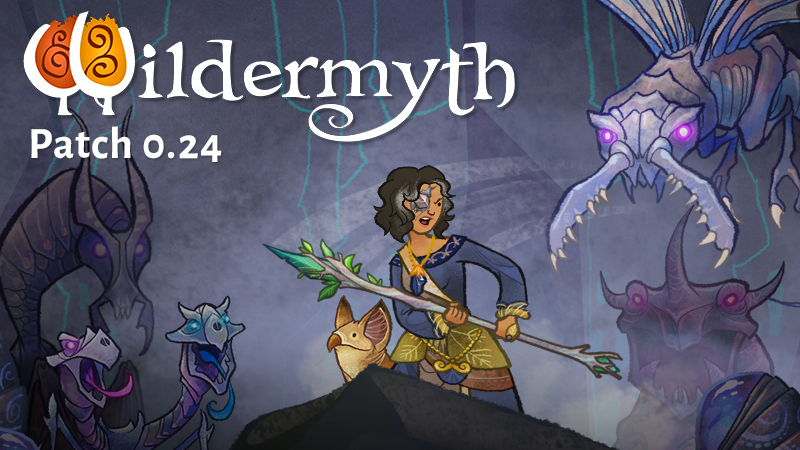 HUD Art and Bugfixes
Heroes in Wildermyth fight off waves of bugs with staves, spears, and terrifying thorn-vine-arms. Devs fight off waves of bugs with keyboards and mice. Who has the easier job? You decide.
This patch, we've got art updates to the HUD as part of our ongoing UI reskin. We've also got new/reworked events, and a whole raft (or barge? wagonload?) of bug fixes.
Work continues on the thrixl campaign in the background....
We aim to ship a patch every 2-3 weeks, and you can find our roadmap here.
<3
-WM Devs
0.24+150 Jia Trackvell
New Event: Spotted
Reworked Event: Splinter
Several new and updated Tidings
HUD art pass, and HUD performance work
Stone stunt now interrupts enemy movement
Warrior backslam now works with gem arm shield
Skeleton theme no longer gets aging debuffs
Adjusted some calamity track names
Guardian and Interfuse class abilities now show in character sheet
Heroes with two skin colors now mix the colors (blue skin + deepist)
Prevent duplicate "fought in X company" history lines
Splinterblast particles now show correctly when targeting the scenery
Multiple status effect particles will show on monsters now
Added dotted line feedback to show interfusion ability direction
Combine soulsplitting announcements to 1 line
Changed objective animations and colors
Crow peck is now once per turn instead of every-other
Screen particles should look better at high resolutions
Doom Track and Archives should look better at high resolutions
Fixed bug where a transformation could replace the wrong weapon
Fixed bug where soulsplitting was too eager to damage scenery
Fixed bug with soulsplitting/calcify interaction
Fixed bug where calcify didn't show in tooltips
Fixed bug where pet bird was behind inactive weapons
Fixed animation timing issues with indignance
Fixed bugs where status animations would play on dead monsters
Fixed blank monster cards, and show number if there are 4 or more
Fixed crash bug with heroes with $ in name
Fixed a rare case where wrong generic boss would show up
Fixed missing text for Will of the Forest attack
Fixed bug where spirits caught in caves would show as outside
Fixed bug where hero with pet could get pinecone pet
Fixed bug where hook quests would stick around if 2nd hero retired
Fixed bug where Aid was healing for wrong amount
Fixed a rare soft-lock during interval
Fixed some visual issues with certain tooltips
Fixed a rare soft-crash that affected some events
Fixed "and <volunteer>" for hook quests with no volunteer.
Fixed several typos
Fixed a layout bug when switching players
Fixed a new game bug when you have no playable legacy heroes
Fixed bug where recruit dialog "pick" button didn't check playability Fixed missing traps feedback when defending with one stunned hunter
Tools: much better expression display and validation (for effects)
Tools: better event debugging for tidings using pick events
Tools: better feedback in pick events for some fail cases
Tools: added Romanian to known languages for community translation Tools: can now use lowest() and highest() in place of min(), max()
Tools: Fixed some bugs with mortal choice / pick events interactions
Tools: fixed validation bug for effects with parameters
Files
Version 0.24+150 Jia Trackvell
68 days ago
Version 0.24+150 Jia Trackvell
68 days ago
Version 0.24+150 Jia Trackvell
68 days ago