Wildermyth
Patch Notes: 0.23+146 Triss Thornfire
---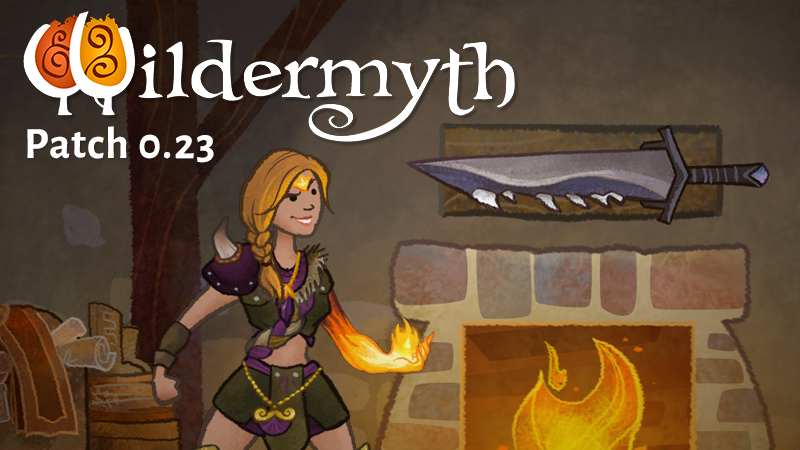 Legacy Campaigns, and UI Art (part 1)
Legacy Campaigns are here! We're launching a 3-chapter generic campaign that's designed for legacy heroes. If you've been craving a new challenge, we've got it for you. By default, you'll start the campaign with calamities based on the total tiers of the legacy heroes you bring in, and the campaign recruits, interval behavior, and threat pace have all been tuned to create an appropriate challenge. As part of this work, you can now play our existing campaigns with starting calamities as well, so you have much more control over the challenge level.
Let us know what you think, because we're not done. We plan to implement 5 chapter legacy campaigns as well, but before we do we'll be putting in some more "end game" content in terms of making sure that each monster group can scale in threat a bit further. (This will probably mean additional monsters, which we're really excited about.)
You'll also notice that recruiting at towns feels more consistent between legacy heroes and new recruits, and retiring heroes can train up rookies.
Finally, we're very excited about our UI art overhaul. Almost all of the menus and dialogs in the game are getting a visual upgrade. It's part 1 because it does not yet include the HUD. Overall things should look a bit more consistent and "finished."
Here's the patch notes.
0.23+146 Triss Thornfire
Legacy Hero Campaign

A new 3 chapter generic campaign balanced for legacy heroes

UI Art Overhaul Part I

All menus and dialogs have fancy new art

New game dialog: art treatment for campaigns

HUD has not yet been updated

Ambushes now only happen with 2 heroes
Ambushes don't scale so much in later chapters
Upon hero retirement, player may now choose a rookie to train up
Choosing legacy recruit abilities now happens before Labors
Resources panel now shows what you'll gain at the end of the chapter
Can now spend a promotion to update mythwalkers
Added keystone fights to final chapters of generic campaigns
Retreat button disabled when not relevant
Fix a bug with beard streaks
Fix a bug on maiming where a 1-handed weapon would get replaced too
Tools: intervals can now control number of foe cards added in chapter
Files
Version 0.23+147 Triss Thornfire
85 days ago
Version 0.23+147 Triss Thornfire
85 days ago
Version 0.23+147 Triss Thornfire
85 days ago