Wildermyth
Patch Notes: 0.14+112 Juli Brickers
---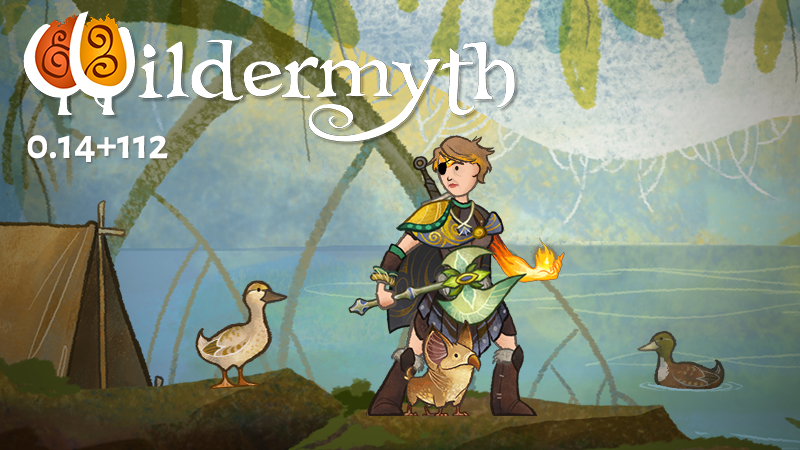 We have several new events and tidings in this patch, including a new pet introduced as a reward from one of our Discord contests!
We gave a lot of attention to movement feedback, so that you'll be able to get a better idea of, e.g. what sorts of scenery you can interfuse with if you move to a particular tile. There's a bit less variation on some of the strongest stats when you're rolling your initial heroes, so that you won't feel *obligated* to reroll until you get that mystic with mad potency or that warrior with the highest retirement age.
All that, bug fixes, tool improvements, and more!
0.14+112 Juli Brickers
New Event: Where We Find Ourselves
New Event: Hitching a Ride
New Event: The Heirloom Spring (Pet Contest Reward!)
Several new tidings
Tidings should be more consistenly relevant to chapter doings
Will now see movement feedback when using Zealous Leap, Silkstep etc.
Improved movement feedback for interfusion, off-hand/theme attacks...
Greatly reduced (nerfed) retirement age variation for new heroes
Also Reduced bonus damage and potency variation for new heroes
Game now autosaves upon reaching the Labors screen during intervals
Many mystic recipes now correctly use bonus range
Fireleash and steal fire no-longer pierce 1 warding
New history line origins for children of heroes
Wild Grasp now scales with potency like other recipes
Fix a bug where vinewrench used melee accuracy instead of ranged
Fixed a bug where npcs from missions would be forgotten
Fixed a bug with npcs swapping out in some events (great one)
Fixed a bug with throughshot and bowmaster
Fixed a bug with backslam and multi-tile enemies
Tools: added some family-related lookups HAS_PARENT, CHILD_OF, etc..
Tools: monster mod tweaks can now be stored with the monster definition
Tools: removed old deprecated stunt results from monsters
Mods: Company, Tiles, Towns and Sites now execute DAILY and MONTHLY effects
Note: we renamed a few event ids, which might cause these events to show up again if you started a campaign before the update. Should only affect save games once per renamed event.
Files
Version 0.14+112 Juli Brickers
Feb 04, 2020
Version 0.14+112 Juli Brickers
Feb 04, 2020
Version 0.14+112 Juli Brickers
Feb 04, 2020