Wildermyth
Patch Notes: 0.11+103 Opellia Bluster
---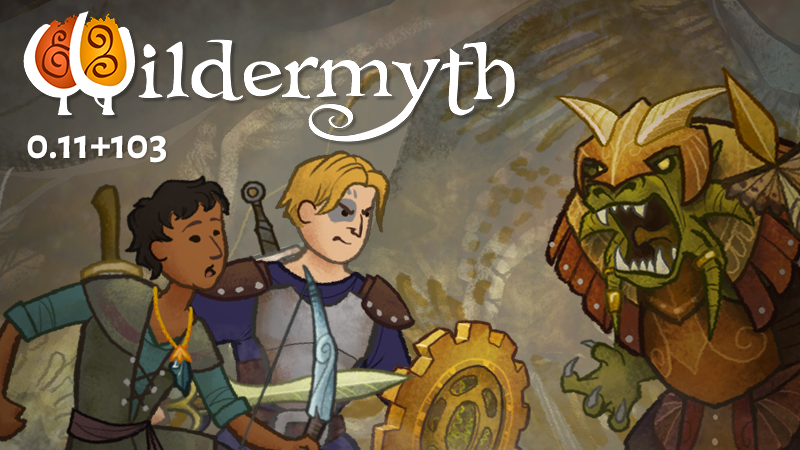 This update focuses on balance and difficulty feedback. We plan to ship updates every two weeks.
We've nerfed bows, because they were too dominant especially at higher difficulty levels. We've also removed wield. It was poorly understood and really just not making the game better.
There are a bunch of other changes that address feedback about the game (or particular monsters) being too deadly, especially on C.S. Lewis and J.K. Rowling difficulty. (Higher difficulties have not been impacted much, outside of a few particular monsters being adjusted.)

We have some exciting new boss music in the game, and we've also added two new stories that give you relationship choices, and fixed a bunch of bugs. Lots of stuff for everyone, we hope! Coming soon, we should be able to announce a roadmap for future work.
0.11+103 Opellia Bluster
New Story: Settling In
New Story: A Novel Decision
New Music for gorgon and morthagi boss fights!
Special Boss Death animations + sfx
Several new tidings & retirements
Overall Balance and Difficulty Changes
Reduce all bow and crossbow damage by 1!
Remove wield from the game!
Adjust various items in response to changes (dueling swords)
Fire abilities can now be blocked (mystic nerf)
Decrease monster damage generally in JKR and CSL difficulties
Nerf specific outliers like Watchman, Batchby, Bartoth that were too lethal
Reduce calamity frequency in JKR an CSL
Getting a maimed arm now replaces 2H weapon with equivalent 1H version
Start with more LP in Age of Ulstryx and Enduring War on JKR and CSL
Stone Stunt now pins nearby units in addition to shred
Fire Stunt now deals magic damage pierce 1 instead of true damage
Nerfed Wardrobe - reduced health of spawned units
Open Door is now a swift action instead of totally free
All attacks that fail to get through armor now shred 1
Increased tier 0 mace knockback to 1.6
Snakestrike deprecated, riposte now happens on both block and dodge.
Removed possibility of dodging when walking through fire
Shieldshear no-longer benefits from ranged weapons - uses melee range
Now possible to delete player accounts from the account menu
New Hairstyle (reward - blame Jargo :-)
Fire Chicken SFX
Mystic abilities like splinterblast now properly take advantage of flanking
Fixed a bug where recruited legacy heroes would not have their levels or stats
Fixed a bug where legacy heroes would get different off-hand items
Legacy heroes now only keep off-hand items if recruited in chapter 2+
"Blinded" now correctly affects all AOE targets (e.g. Drathix)
Fixed a bug with Starheart
After chapter end, secure/research/repair jobs are removed (will be completed)
Fixed a bug where monsters spawned by summoning did not have calamities applied
Fixed targeting on wolfFriend tiding
Fix a bug where gear pop ups in combat lab would cause a soft lock
Fix a bug where editing an event from in game would cause a soft lock
Spirit capture dialog more clear
More clear that Seacave fight is endless and escape is the only option
Reduce difficulty of Enduring Ch2 capstone (poison gas) on JKR and CSL.
Fix a bug where riposte would keep attacking
Fixed a bug where some item stat boosts would affect other (non-weapon) attacks
Fixed a bug where the name of the wrong town would show in a tooltip
Fixed a bug where the generic gorgon campaign said "Age of Ulstryx"
Fixed many typos, missing tags, and instances of dev text
Several improvements to Steam Workshop integration (edit image, name/blurb, tags)
Files
Version 0.11+103 Opellia Bluster
Dec 10, 2019
Version 0.11+103 Opellia Bluster
Dec 10, 2019
Version 0.11+103 Opellia Bluster
Dec 10, 2019